Welcome to CorvettesofLakeCounty.org
Corvettes of Lake County club started in March 2003.
There are currently 35 memberships. Join Us!
Upcoming Events
Ongoing: Check out our monthly meetings.
Club Officers: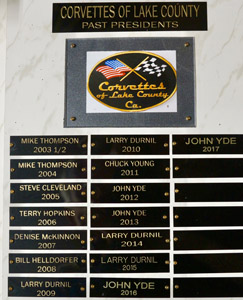 President: Larry Durnil  corvettes2007@yahoo.com
Vice-President: Kevin O'Brien
Treasurer: Mike Beall
Secretary: Sandi Thompson
Events Coordinator: Susan Durnil
WSCC Representatives: Steve Cleveland & Bill Landis
Historian & Photographer: John Yde
See All Past & Present Officers
News
RUN TO THE LAKE, May 25th 2013
70 Corvettes, in three separate entry numbers, C1 through C4 then C5's and Last C6's, in the Lakeport parade Saturday morning, throwing candy from some of the cars, but not all the cars !!!!


The Boy Scout Troop 42
started by leading us as usual

Boy Scout Troop 42 receiving a $300 check
presented by club President John Yde
| | |
| --- | --- |
| After the parade there were wine tours/tasting/BBQ's all around the lake, ending up at the Riviera Hills restaurant where 100 people enjoyed a relaxed dinner and a spectacular view of the lake. DeFatte Equipment, Ukiah, supplied a 20 foot man lift to get pictures of the 44 Corvettes parked "On the Green" with Clear Lake as a backdrop. | |
| | |
| --- | --- |
| | On Sunday morning, May 26th, we had 71 Corvettes ready for inspection on Park Street in Lakeport. |
The all Corvette Show opened with Jackie Hansen, club Vice-President, singing the National Anthem with the Lake County Vietnam Veterans holding the Stars and Stripes.

The weather couldn't have been better both days. The Vietnam Veterans sold out of the home made ice cream they were vending/selling.
| | |
| --- | --- |
| | Just before the award ceremony, hosted by Steve Cleveland, club treasurer, a check of $3,000.00 was awarded by Sandy Thompson, club secretary, to the Lake Family Resource Center; Our club Charity. |
This years "BEST OF SHOW" award went to a well deserving Bob Dempsey with a Black 57 Corvette that he has has for over twenty-five years, from Yuba City, Ca.

[Photo by Carl Ries]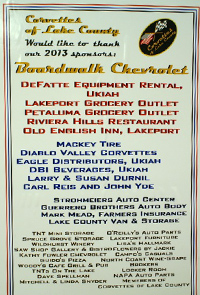 A BIG THANK YOU to our SPONSORS again this year!
The largest donation from Tim Boone of Boardwalk Chevrolet

All photos submitted by John Yde, club photographer.
---------------------------------------------------------------------------------------------------------------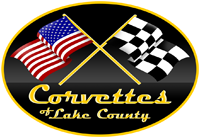 COLC Logo Download
COLC Logo: High Resolution (for printing), Medium (transparent oval)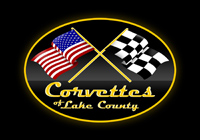 Computer Desktop Wallpaper
---------------------------------------------------------------------------------------------------------------